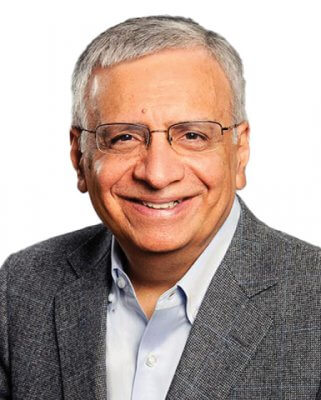 Rafi Ahmed, PhD
---

Rafi Ahmed, PhD, is Vaccine Center Director and Professor of Microbiology and Immunology at Emory University. He is an internationally-recognized immunologist whose work has been incredibly influential in shaping the industry's understanding of memory T cell differentiation and anti-viral T and B cell immunity. Dr. Ahmed's laboratory uses highly sophisticated cellular and molecular techniques to study antigen-specific immunological memory in murine, primate, and human systems.
Dr. Ahmed was awarded the American Association of Immunologists Excellence in Mentoring Award in 2015 and elected a Distinguished Fellow of AAI in 2020. Dr. Ahmed serves on Genentech's Scientific Resource Board and is a Fellow in the National Academy of Sciences. In addition, Dr. Ahmed is a member of the National Academy of Medicine, the National Academy of Inventors and a foreign member at the Indian National Science Academy.
Dr. Ahmed earned his PhD from Harvard University in Cambridge, MA, and completed his postdoctoral fellowship in the Department of Immunology at the Scripps Clinic and Research Foundation in La Jolla, CA.
Go Back